About company
The company has been successfully working on the information technology market since 2000. We provide information and computing services, develop and maintain software systems for banking and financial institutions, as well as providers of utilities and other types of services, both governmental and private institutions.
Benefits for the people and the web-site users:
• payment of utilities via a single notification invoice;
• receiving invoice notification by e-mail;
• the ability to choose a convenient payment method (through the cash desks of banking institutions, through the website, terminals, mobile application.);
• obtaining reliable information about debts, charges, benefits, subsidies for any period on the website, at the bank's cash desk, by phone in our support service;
• when paying for utilities, it is possible to simultaneously pay for a kindergarten, administrative fines for traffic violations, taxes, refil a mobile account ...;
• an increase in the rate of receipt of funds to the accounts of service providers;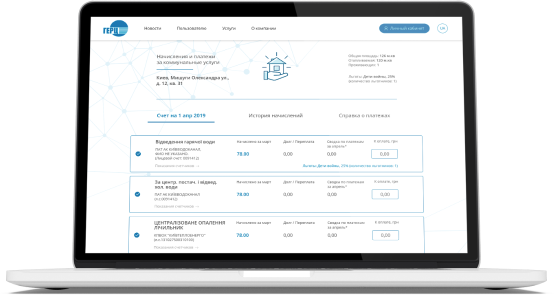 Benefits for our partners (banks, service providers):
• modern software systems for calculating charges for consumed utilities;
• maintenance and revision of software systems in accordance with the requirements of the supplier and changes in legislation;
• a flexible and convenient system for obtaining information on accepted payments from the population, adapted to the requirements of each supplier;
• an increase in the speed of passing payments to the accounts of service providers;
• transparency of the work of GERC and high qualification of employees.
The specialists of "GERC" LLC have developed and successfully implemented a unique technology of ASAAP (Automated system of accounting and acceptance of payments), which allows online acceptance of payments for:
• utilities (electricity, gas, water, heat, council tax, intercom);
• budget payments (education, traffic fines, court fees, personal income tax based on the results of the annual declaration);
• transport, parking, QR-cards (electronic tickets for travel in public transport);
• mobile communications, internet, cable TV, etc.

The main activities of the company are:
• development and implementation on the basis of modern technologies of information systems covering all stages of accounting for utilities from keeping records of municipal housing to calculating charges for services provided;
• generation of notification invoices;
• receiving payments;
• creation of a single information space in various areas of the urban economy.